Let's Change Lives One Message and One Necklace At  A Time……
We pass through life from many different walks of life on our Journeys. We walk around valuable "Beautiful People" looking straight through them not knowing how powerful their "Life Story" Truly Is.
The Communication Necklace
Beauty for Ashes Empowerment has created a communication necklace, which will serve as a conveyor belt and witnessing tool, that  will allow Women from every age group to begin to have real dialogue. This conversation and positive story exchange, will grant all who meet a life-changing platform to tell their life story and the difficulties they've overcome. This precious piece will open doors and opportunities for us to have a voice worldwide. We will encourage many  to "Rise from the Ashes" of life and walk into their tomorrow with hope and peace…Connecting Is The Key!!
This is our time to  help end silent suffering…..
" Let The Story Began With You"…..
"My Ashes, My Story,  My Power"…..
Help us share the message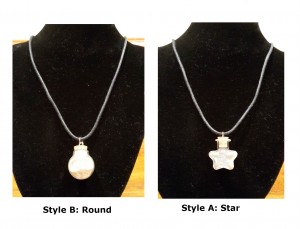 Help share the message. Purchase your own Communication Necklace today! They come in two styles. Style A: Star Shape, and Style B:Round. (Each Necklace is $15.00).
Make Your Purchase Now:
Buy Style A: Price $15 (specify quantity upon check-out)
Buy Style A: Below $15 (specify quantity upon check-out)
Make Purchase Here